Party Accessory Rental from Affordable Backyard Tents
The best event planners know that real success comes with attention to detail. Affordable Backyard Tents knows that, too. That's why we don't stop with party tent rental. Party equipment rental from ABT is as easy as our tent rental program. Take a look at this roster of rental party accessories and you'll see what we mean!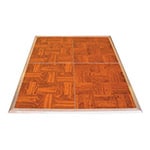 Rental Dance Floor
This indoor / outdoor oak parquet dance floor comes in 3′ x 4′ sections. The only requirement for this great looking dance floor is that it must be set up on a flat surface, which can be grass. Prices include standard installation.
12′ x 12′ Dance Floor (capacity 20): $300
15′ x 16′ Dance Floor (capacity 30): $400
16′ x 18′ Dance Floor (capacity 50): $450
Rental String Globe Lights
These lights provide a nice soft lighting for a tent allowing just enough light. Usually the lights are strung down the middle of the tent from center pole to center pole. We offer five-light strings and eight-light strings. Each plastic globe light is a 40 watt bulb.  Prices include installation.
5-light or 8-light string: $40 each

Rental Tent Heaters
This 170,000 BTU forced air rental tent heater uses propane. The heater sits outside the tent and blows warm air into the tent under the sidewalls through an air duct. The heater is controlled by a thermostat so your guests will be very comfortable with this rental heater. Just set the thermostat and the heater will turn on and off as needed. The only things the heater needs are an electrical outlet and propane to run. You can supply your own propane or ABT will supply it for an additional charge.
85K BTU Rental tent heater with thermostat: $125 each
175K BTU Rental tent heater with thermostat: $175 each
100 lb propane tank for heater: $150 each
Rental Tent Sides
Protect your guests from the elements with rental tent sides from Affordable Backyard Tents. Rental tent sides keep the wind and rain out. They also make a tent feel more like an indoor ballroom. Solid sides are white and reach from the edge of the tent top to the ground. Windowed sides allow more light in and provide a touch of elegance. Sides are available in 15 foot and 20 foot lengths.
Solid sides: $35 each
Windowed sides: $45 each
Rental Table Linens
108Custom table linens are the rental party accessory you won't want to forget about. Our restaurant-quality polyester table linens are available in white and a wide variety of colors. Standard table linens cover the table and go all the way to the floor.
8′ Banquet Table Linens – 72" x 120"
White: $12.50 each
Colors: $12.50 each
Floor length: $22.50 each
4′ Round Table Linens – 108" diameter
White: $16 each
Colors: $16 each
5′ Round Table Linens – 120" diameter
White: $16 each
Colors: $16 each
High Boy Cocktail Table Linens – 132″ diameter
White: $19.50
Colors: $19.50
Additional Linens
Bows/Ties: $4
Napkins: $1.50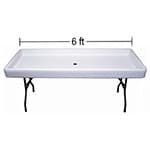 Fill 'n' Chill Beverage Table
These unique rental beverage tables are 6′ long table with a 6″ lip and a center drain plug. The table holds up to 50 pounds of ice and cold salads or 60-70 cans and bottles. Your guests will appreciate serving themselves from this table instead of sticking their hands in an ice-filled cooler!
Fill 'n' Chill Table: $50 each

5' Rental Portable Serving Bar
This is a very nice professional serving bar on wheels. Commercial grade plastic and stainless steel panels are on the front of the bar.There's plenty of room for bottles, ice and extra glasses behind the bar.
5′ Portable Serving Bar: $100 each

Please Note
Customer pick-up is NOT available for rental party equipment.
We add a delivery charge to every order. The amount depends on the delivery location.
We add a 3% convenience fee to all credit card transactions.
Click here to review our rental contract.
Call our Oak Park office today for your FREE party equipment rental consultation!
Click on this special offer to learn how to save on your party accessory rental today!